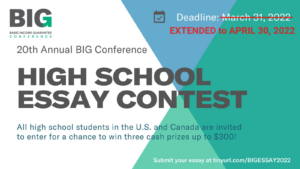 Aleeza Howitt
This year is the second high school essay contest in honor of the 20th annual Basic Income Guarantee (BIG) Conference. It is open to all high school students across the U.S. and Canada. Last year, the winning essays were "Gaining Ground" by Joshua Z. Miller and "The Role of UBI in the Fight Against Climate Change" by Miranda Reid.
The 20th anniversary of the BIG Conference appears timed to usher in a new era for the idea of UBI, particularly striking to witness as a young person. Today, we are seeing more basic income pilots and studies than ever before, with thought-provoking stories and research findings often in the news and sparking classroom debate. Many high school students may additionally have first-hand experience living in a family or community affected by emergency stimulus checks due to the ongoing COVID-19 pandemic. The momentum of these ideas and experiences will carry forward the next generation as they graduate and become the new voices, researchers, policy-makers, and leaders. What are their thoughts on basic income in 2022, and where will their generation lead us in the future?
The three winners of this year's high school essay contest will be awarded a first, second, and third place cash prize of $300, $200, and $100 respectively. $300 is the maximum monthly child credit (recently expired) that was offered to U.S. parents under the American Rescue Plan Act of 2021. The child credit policy has been called a stepping stone to a universal basic income in the U.S.
The essay submission deadline has been extended to Saturday, April 30, 2022. More info can be found on the call for submissions and essays should be submitted online. The winners will be invited to appear virtually at The BIG Conference on June 23-25, 2022, where the prizes will be awarded. Please spread the word to high schools, teachers, and especially students!
https://usbig.net/wp-content/uploads/2022/03/essay-contest-featured-img.png
366
450
Aleeza Howitt
https://usbig.net/wp-content/uploads/2023/03/USBIG-logo-1a.png
Aleeza Howitt
2022-03-09 04:00:02
2022-04-16 01:37:14
2022 High School Essay Contest on Basic Income