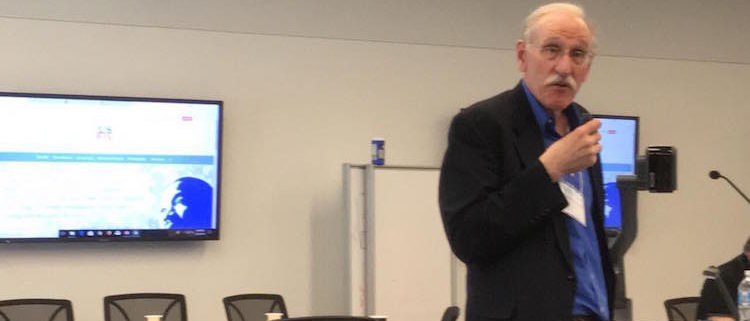 By: Michael Howard (Professor of Philosophy, University of Maine)
At the North American Basic Income Guarantee (NABIG) Congress in Hamilton, Ontario, May 25-27, 2018, representatives of four national basic income organizations met in a round table session and discussed ways that they could cooperate, complement one another's strengths, and share resources. Representing USBIG, I joined Jim Pugh (the Universal Income Project), Garrett Hour (Basic Income America), and Ian Schlakman (Basic Income Action). We all agreed to advertise one another's organizations, and encourage cross membership. Here are some of the complementary benefits that readers can get by belonging to all of these.
The Universal Income Project (UIP) is based in San Francisco, and has been responsible for organizing create-a-thons, generating ideas for how to promote basic income. It became an advocacy organization in 2016, and has been building bridges to people and organizations that share common values with basic income supporters. UIP organized a conference in California in 2017 with 40 organizations and over 200 people on progressive work in the state, making sure that basic income was a part of the conversation. UIP has also sought to broaden the narrative from a narrow focus on automation to broader themes including poverty, precarious work, and valorizing care, which have long been central to discussion of basic income. And they have resisted federal work requirements for SNAP benefits. One important resource they offer is the Basic Income Podcast series.
Basic Income America (BIAmerica) started in Portland, Oregon, in 2017, by young people seeing the need for radical changes, and its goal has been to saturate social media on multiple platforms with basic income messages. Basic Income America faced initial challenges in attracting volunteers due to a decentralized model, but has now assembled a dedicated group to begin the next push by the end of June 2018. The group has had some success on related issues, such as expanding municipal broadband in Portland. If social media is your focus, check out Basic Income America.
Basic Income Action (BIAction) originated as an activist spin-off of the USBIG Network in 2015, focused on forming basic income local chapters and lobbying for basic income at national and state levels. Chapters have been formed in several cities or regions, with New York City, Seattle, and Minnesota being the most active, and others formed in D.C., Michigan, the San Francisco Bay area, and New Orleans. If you want to start a local chapter, or learn what existing chapters are doing, check out the Basic Income Action website.
The USBIG Network, founded in 1999, is the oldest of these organizations, beginning with the mission of promoting discussion of basic income guarantees. USBIG incorporated as a non-profit organization about a year ago, which has enabled it to take donations and receive grants. The major work of USBIG has been organizing, together with the Basic Income Canada Network, the annual North American Basic Income Guarantee Congress, alternating every other year between the US and Canada, and bringing together scholars, activists, and policy makers. In addition, USBIG publishes a monthly newsflash, and maintains a website that includes among other things a Discussion Paper Series, with many papers from past congresses, a bibliography of books and articles on basic income, and links to other resources.
A grant from the Economic Security Project has enabled USBIG to upgrade its website, which is now featuring a regular blog series, as well as a news feed from Basic Income News. USBIG has invited other organizations to submit content for the Newsflash and the blog series, and to encourage their members to subscribe. USBIG also hopes that other organizations will participate in the planning of future congresses, so that these events truly reflect the diversity of the basic income movement in the US. Such participation may also enable locating the US congresses in other parts of the country in addition to the East coast.
It was interesting to discover that all four organizations are almost entirely volunteer driven, but they have quite different, complementary missions. So it is useful for anyone interested in basic income to join all four: USBIG to get the Newsflash and access to current research and news, BIAction to get involved at a local level to promote basic income policies, BIAmerica to spread the idea on a variety of social media platforms, and UIP to follow its work on the state level in California, and explore best practices in forming coalitions and promoting policy.  
Michael Howard
Coordinator, USBIG
https://usbig.net/wp-content/uploads/2018/06/33677212_2124415887586218_2206195305475473408_o.jpg
422
750
Michael Howard
https://usbig.net/wp-content/uploads/2023/03/USBIG-logo-1a.png
Michael Howard
2018-06-22 14:48:13
2018-06-17 14:54:20
US Basic Income Organizations Discuss Future Cooperation