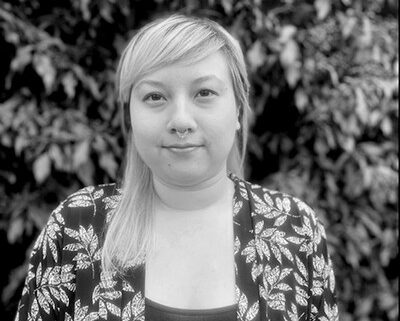 It is an honor to introduce myself to our readers and I am excited to have this opportunity to help shape the future of USBIG as the Interim President! 
I'm an Asian-American woman who grew up in California's East Bay Area and now reside in Portland, Oregon. I grew up very passionate about animals, fostering and volunteering at local animal shelters, and I continue to do so to this day. When I had to think about what I wanted to do for a living, I stayed true to doing what I love and went to art school where I graduated with a BA in Painting & Drawing. In my daily life now you can find me making art, tending to my fish tanks, cuddling with my two chihuahuas, or binge watching a favorite show while enjoying some bubble tea.
I've been a passionate supporter of basic income since 2012, when it struck me as a design our government could adopt that could not only be an efficient, proactive, and more dignified approach to overcoming poverty, but a policy that has the potential to transform the very reality that our society lives in. Its longterm effects will set us up to thrive collectively, and help us overcome the many roots of scarcity that divide us today in so many unfair and untrue ways. Since I joined the fight for basic income, I have never lost sight of the vision it holds and the gift it would be to the millions that need, want, and deserve it.
In the past several years of working deeply in the movement I hope to bring my diverse experience of activism and non-profit work to help shape USBIG's next steps. I've helped organize dozens of grassroots efforts and helped everyday supporters have an impact by facilitating and building nationwide scaled direct actions. Working within Yang's presidential campaign as a field organizer and a volunteer gave me personal insight to the political will that will be necessary for a basic income to become federal law. At Income Movement, I've helped build bridges across the basic income movement, inform strategic planning, and broaden the movement's community.
It is an exciting time for the basic income movement, and the next five years will place opportunities before us that we must maximize. An organization that backs the idea of basic income with its history, collection of academic research, and the tradition of its Basic Income Guarantee Conference I know will continue to bring our movement together in impactful ways. 
Doing this kind of work has taught me how important a mindset of abundance is. We have a lot of work ahead of us to ensure we make the most of these moments, and I know that together we can make basic income a reality. I am very much looking forward to the progress I can help us make with everyone at USBIG and beyond.
https://usbig.net/wp-content/uploads/2022/08/1649373331446-e1661491983100.jpeg
300
300
Soomi Lee
https://usbig.net/wp-content/uploads/2023/03/USBIG-logo-1a.png
Soomi Lee
2022-08-26 05:31:09
2022-08-26 05:33:46
Introducing Chelsea Wilkinson, New Interim President of USBIG